These have been a long while coming...
"Hell Hath No Fury Like A Witch Awakened" is a phrase I've gone by for the past few years now, if you're familiar with Magical Soul Bitches you've likely seen it lurking around, percolating in different forms.
For me this phrase marks the process of awakening to your Power and your inherent inner Witch - which we all possess.

So, I finally bit the bullet and started playing around with designs and here we are.
Introducing "A Witch Awakened" Tote Bags!

These totes are now available
in the SHOP !!!

If you purchase more than one - you get 15% off which is awesome for obvious reasons!

These tote bags have the design printed on both sides, have a very comfortable 1 inch wide super strong cotton shoulder strap (14 inch length - I have super sensitive neck issues so I really enjoy that this does not kill me like the way other skinny straps do!), soft yet hard wearing 100% spun Polyester Poplin fabric and are made in the USA.

I'm super picky about tote bags - most of them are really flimsy and collapse - this one has just enough structure and bend.

Like for real, I'm really excited about these. And I've been literally busting them out to use them any chance I get.

I hope you join me in wearing your Witchy hearts on your...tote..sleeves...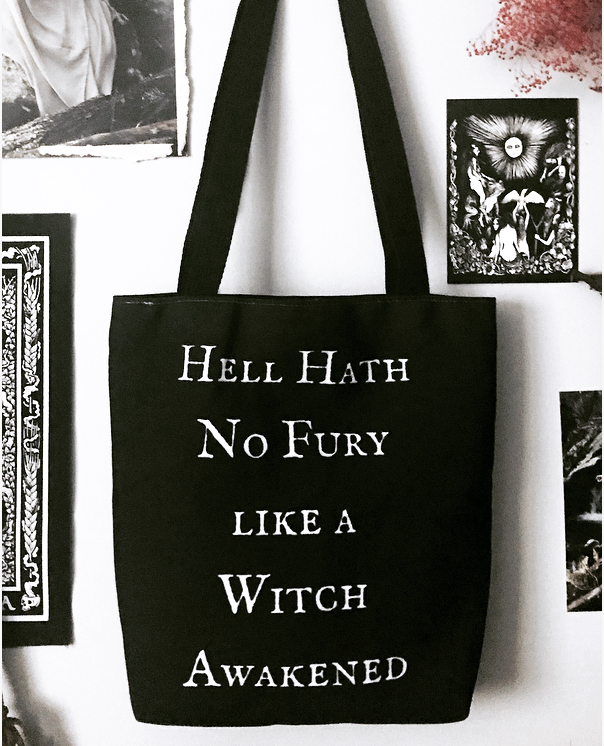 Thank you for all your love and support and excitement over these for those of you who've already snagged some! I love you all so much!

in witchcraft,
Nikki